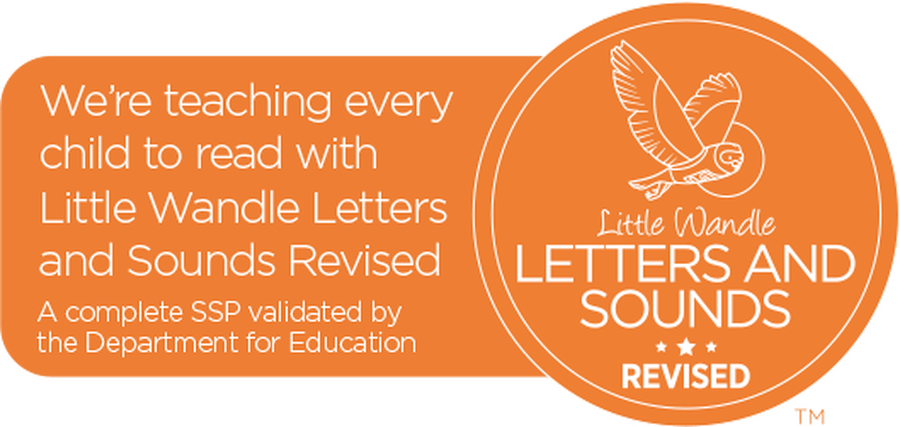 Reading at St Giles
Intent
At St Giles Academy, we believe that reading is an essential life skill and we are committed to enabling our children to become lifelong readers. At the heart of our strategy, is our drive to foster a love of reading, enriching children's learning through carefully designed teaching activities that utilise imaginative stories and thought-provoking texts. Reading is a skill that enables children to develop their learning across the wider curriculum and lays the foundations for success in future lines of study and employment. We recognise the importance of taking a consistent approach to the teaching of reading in order to close any gaps and to target the highest possible number of children attaining the expected standard or higher. We have high expectations of all children and we encourage children to challenge themselves, persevere and pursue success, always aiming high.
Reading and Phonics Implementation:
We use a synthetic phonics programme called Little Wandle. This programme is a method of learning letter sounds and blending them together to read and write words. This is supported by a comprehensive scheme of reading books provided by Collins Big Cat books. Children who are catching up are encouraged to take home a new phonics reading book after each session. Where children do not read at home, staff facilitate extra reading sessions in the school day. At St Giles, all classes follow a structured 5 day approach to reading activities. All sessions are interactive and teachers facilitate speaking and listening opportunities, with children working hard individually. High quality texts and passages are chosen, appropriate to the expectations of the year group or ability of children, and teachers use this to model the application of the agreed reading skills. Children are taught to notice breakdown in reading - identifying words/phrases they don't understand and strategies to fix breakdown in meaning. Children are taught to relate the text to themselves, previous reading experiences and the world around them. Further to modelled sessions, children have the opportunity to read texts with greater independence and apply their skills when responding to the wide range of domain questions. More complex questions are evaluated between wider groups and teachers model how to refine answers to a high standard. We believe that regular reading at home is an important tool in developing reading skills. Levelled titles from the Collins Big Cat schemes and traditional tales are used for home-reading to ensure that children experience a wide breadth of reading opportunities across different genres. Our reading scheme ensures children are offered high-quality books that reflect the diversity of our modern world. Children work through the wide variety of books at their own pace, reading the majority of titles in each series. Teachers monitor their progress and determine when best for children to move onto the next series, ensuring that a range of titles have been explored and understood.
Impact
As we believe that reading is key to all learning, the impact of our reading curriculum goes beyond the result of statutory assessments. Children have the opportunity to enter the wide and varied magical worlds that reading opens up to them. As they develop their own interest in books, a deep love of literature across a range of genres cultures and styles is enhanced. Through the teaching of systematic phonics and reading enquiry, our aim is for children to become fluent and confident readers who can apply their knowledge and experience to a range of texts through the curriculum. As a Year 6 reader, transitioning into secondary school, we aspire that children are fluent, confident and able readers, who can access a range of texts for pleasure and enjoyment, as well as use their reading skills to unlock learning and all areas of the curriculum.
Reception and Years 1 and 2 - We are a Little Wandle Reading school. Please see the phonics page for more details.
When Reception children first start school, they will begin their journey into the wonderful world of reading, starting with the initial sounds.

In Reception, Year 1 and Year 2, children will receive daily, discrete phonics lessons in order for them to build up their phonic knowledge and decoding skills.

Teachers will follow the school phonics policy and use the Little Wandles Letters and Sounds phonics programme.

In Reception, children will have their 'read at home' book to practise their sounds/tricky words at home. When children are secure with the first six sounds (s,a,t,p,i,n) they will be given books which correspond with the phonic phases they have been taught.

Each child in KS1 has a home school reading diary.

All children in KS1 are expected to read at least two to three times a week 1 to 1, and to have this signed by an adult.

All classes complete a Reading Race challenge each week to encourage independent reading and promote a love for reading. Rewards are received for the number of times a pupil reads each week.
Partnership with parents
All of our pupils will be given many opportunities to read and to be heard reading in school by staff and other adults in school. However, we recognise that it is often difficult for us to hear individual children as much as we would like so, therefore, need support of parents/carers at home. We would ask that all children be listened to reading by an adult at least three times a week at home. We actively encourage parents to be involved in the development of their children's reading skills. They can do this in many ways including:
Listening to their children read regularly at home and discussing what they have read.

Reading to their children at home

Playing 'word' games

Taking children to the library - Our local library (Pontefract) encourage all pupils to visit as often as possible.

Helping in school and inviting parents to come and see their children's learning
Cross Curricular Links
We aim to create reading opportunities across all areas of the curriculum to make it more meaningful and relevant to the pupils. We will ensure that all pupils are given opportunities to study a range of good quality and interesting fiction and non-fiction texts from a variety of genre across a variety of curriculum aspects. They will have the opportunity to read 'real' books and newspapers, posters, ICT based texts and information booklets.
Inclusion
We aim to give all our pupils the opportunity to succeed and reach the highest level of personal achievement; to promote the individuality of all our pupils, irrespective of ethnicity, attainment, age, disability, gender or background.
We consistently nurture a love of reading
There is high-quality, committed and direct leadership of reading, especially from the head teacher and the staff
There is clear agreement about what children need to learn to be successful readers
There is high-quality, consistent teaching, 'including discrete phonics teaching'
There is rigorous assessment of every child, especially identifying difficulties early on so that well-matched and timely support and intervention can be provided.